26 Sep 15 Inventive Furniture Made From Car Parts
Singapore car lovers can now be more than inspired by a vehicle. You can actually use car parts and incorporated them into plenty of things, like bicycles, shoes, watches, and even buildings. Your time with your car doesn't have to stop at the curb, in your driveway, or in the garage. Plenty of household items has been built using car parts like crankshafts, engine blocks, wheels, and connecting rods. The boys at Max Polish love these 15 inventive examples of furniture made from car parts. Boost your creative minds and let these list by Tony Markovich get you going.
Bar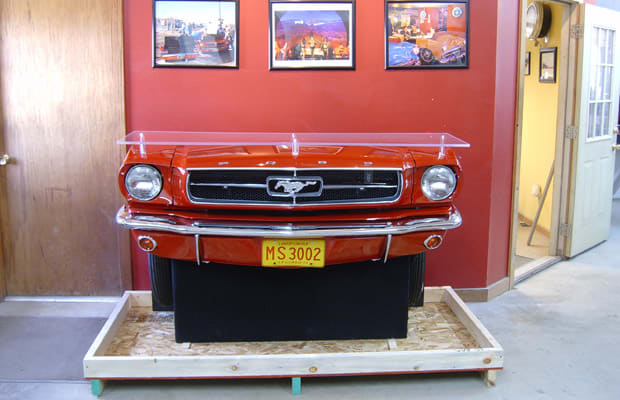 Part: Front End
This could actually be used as a really great tool for getting people not to drink and drive. Fit this thing with an actual turning ignition and a steering wheel, and drunk people will probably think they're actually driving home. When they "pull up to their driveways," just walk them to the couch and wish them sweet dreams.
Wine Rack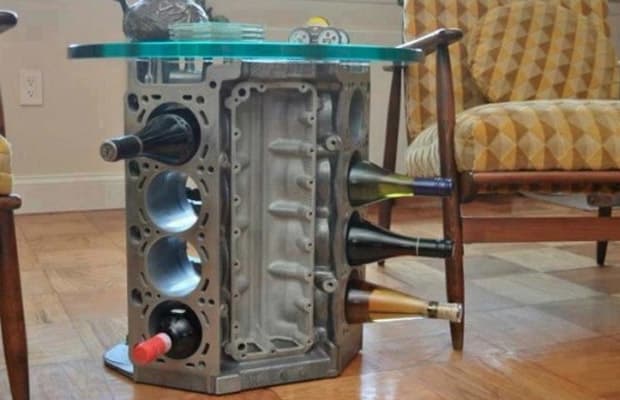 Part: Engine Block
The only thing that gets our engine revving better than gas is alcohol. Make sure those cylinders are stocked at all times.
Couch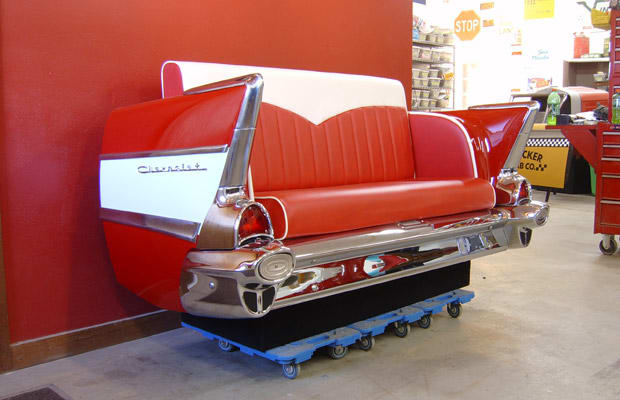 Part: Rear End
We'd like to incorporate bench seats into as many aspects of our lives as we can.
Table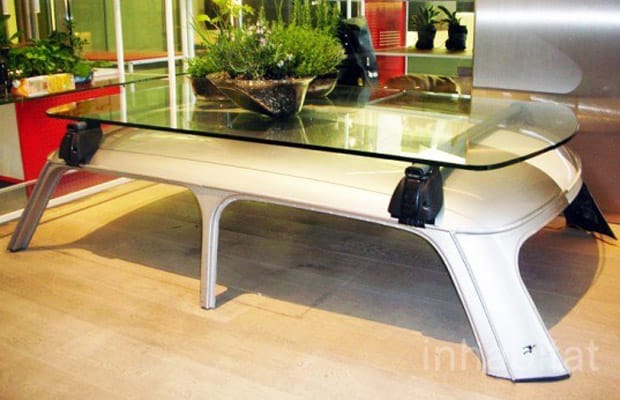 Part: Car Roof and Roof Rack
This would be even better if it were a convertible top that you could take off and use at the park. The bike rack is key, though.
Pool Table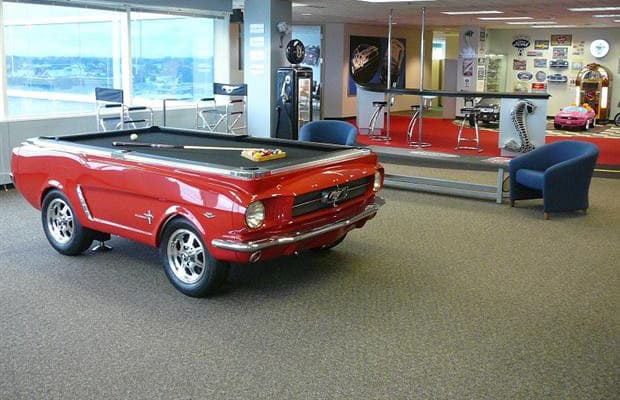 Part: 1965 Ford Mustang
We wonder if you have to purchase insurance for this to protect from flailing sticks and flying balls.
Lamps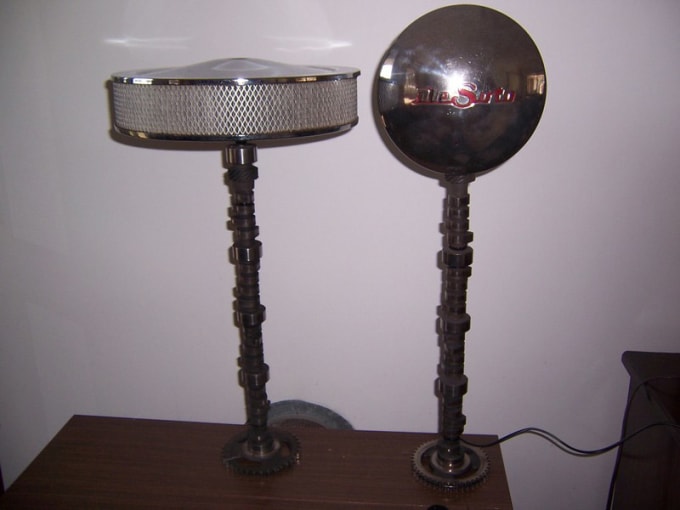 Part: Crankshafts and Radiator Filter
If these could be fitted with low and high beams, they might be our favourite design.
Entertainment System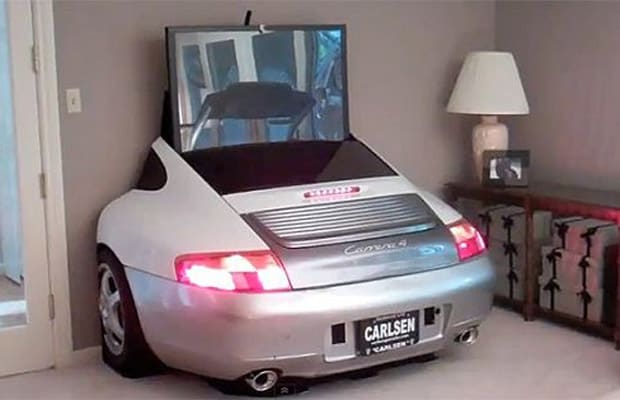 Part: Rear End
We're hoping that TV slides down into the car, and that the XBox and PS3 are tucked away nicely in the trunk.
via
Table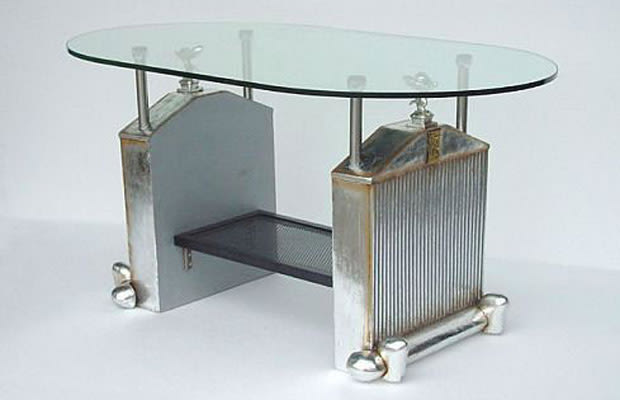 Part: Radiators
There's no need to limit yourself to only Rolls-Royce radiators. They might look the coolest, but they're also going to be extremely expensive and difficult to find.
Sink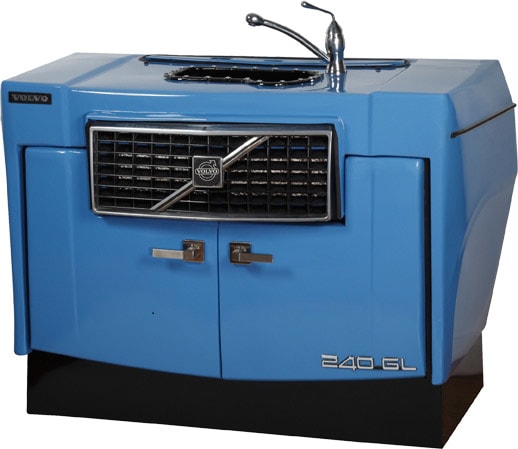 Part: Volvo Grille
The safest bathroom item you could purchase.
Bed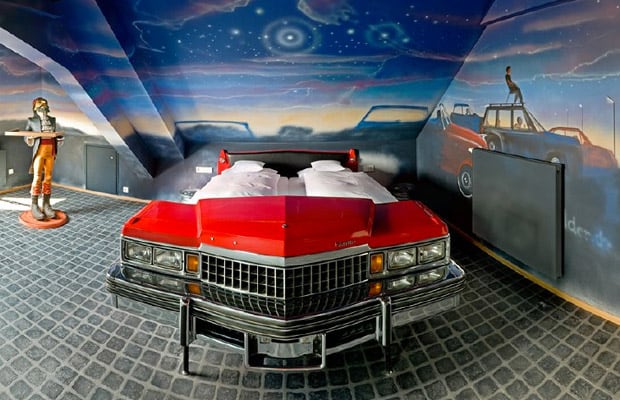 Part: A Red Cadillac
Forget trying to awkwardly avoid the stick shift, the steering wheel, and the turn signal. Just get a car bed and you'll be ready to get it in, no hassles whatsoever.
Hanging Wall Art
Part: Front End
Sometimes, it's hard to let go of something. You might think that a photo is more appropriate, but we don't think anything really captures the essence of an old ride like tossing the front bumper, grille, and headlights right up on the wall.
Drum Set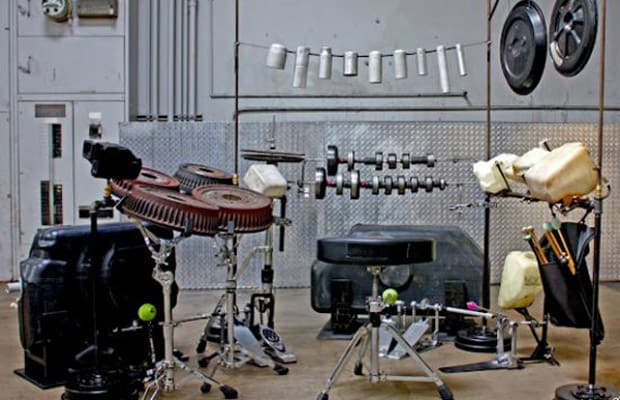 Part: Various Parts
It's not the usual sound that we love from an automobile, but this'll work.
Table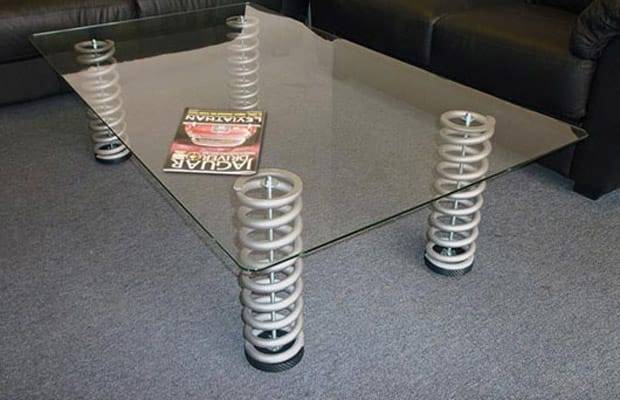 Part: Coil Springs
This way, when your friends get way too drunk, get too wild dancing on the couch, and take a tumble, they'll just bounce right back up … but not really.
Barbecue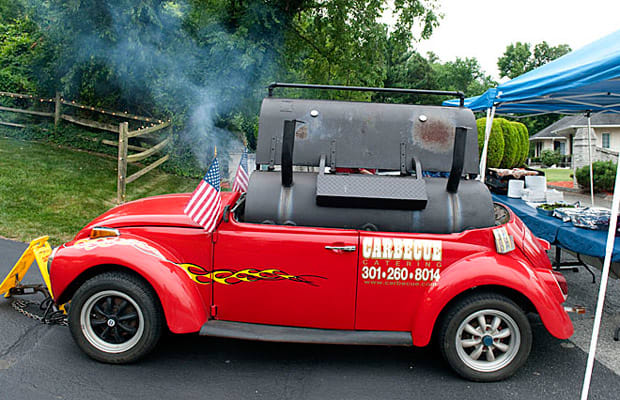 Part: Entire Car
The best part? We're sure the pigs don't want any part of this.
Table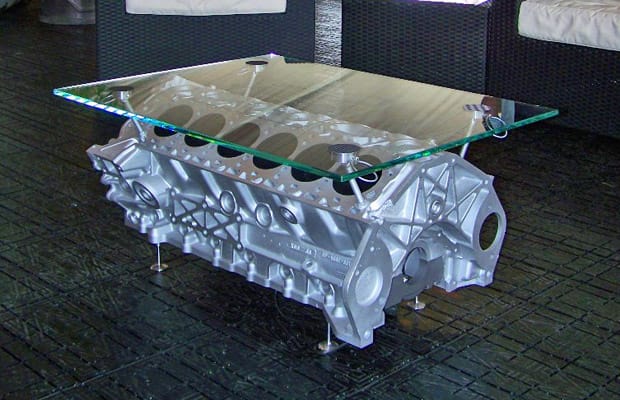 Part: Engine Block
We don't know about you, but that block looks pretty damn clean to us. We'd rather drop that into a new bay and build us a monster.